Creative Food & Wine Pairing Experiences (Restaurant & Winery), In Argentina
Argentina is known for having the best beef in the world Asado! These barbeques are rituals that occur over many hours of preparation and eating. And always shared with one of their big red wines, like Malbec! Food and wine is very much a part of the Argentine culture. It is their social life. It is the satisfaction gained from having evolved palates.
As a result, Argentina has some of the very best chefs in the world. Innovative chefs, who make pizzas liquid in a martini glass, for example. Political chefs who have social statements with their fantastic cuisine. Chemists whose labs are the kitchen where their experiments are used to tantalize our taste buds. And everywhere, throughout the country, there are very talented chefs using local natural fresh ingredients, with local recipes, lots of creativity, and designing plates of extraordinary flavors. All this with wine in mind. And shared. And sommeliers are common.
Wineries are in on the act as well. It is common for wineries to have restaurants, and sommeliers. What better way to learn about a winery's wine than pairing them with the right foods. It is an experience. Wine is always an experience. A sensual, passionate, experience with our senses. When I drink wine, I desire food. And when I eat, I get passionate for wine.
Keep in mind that eating habits in Argentina might be a bit different than yours. The typical professional arrives at work at 10:00 am and works unto 1:00 pm. From 1:00 to 5:00 pm is lunch. Two hours at least for eating and socializing, followed by a nap or Mate (a wonderful South American tea) with more socializing. From 5:00 to 9:00 pm is back at the office. Restaurants begin to open for dinner at 10:00 pm, get busy at 11:00 and surprisingly the typical family has dinner at home around midnight. Starting work at 10:00 am begins to make sense now.
Hotels and wineries tend to be more accommodating with their culinary times. Just be prepared; as I have found myself starving at the wrong time! Below are some of the most interesting and creative food & wine pairing experience I have discovered. Each place I present to you is set up to specifically offer a food & wine pairings. Enjoy!
Wine First, Cuisine Second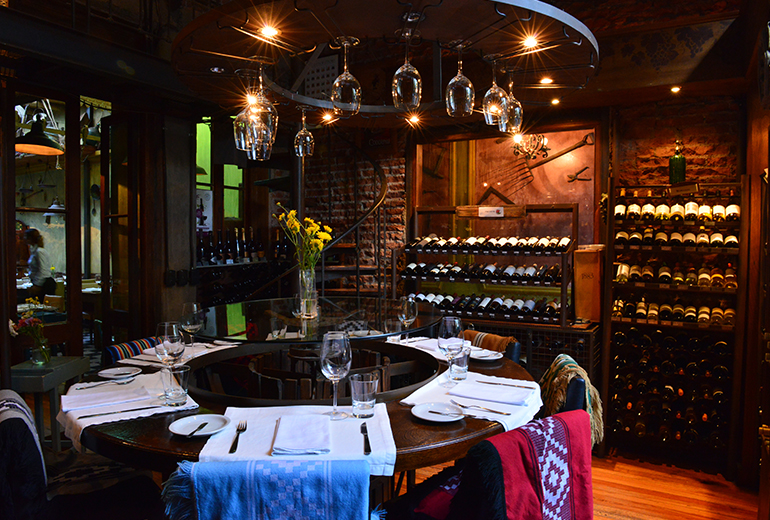 It all begins in the cellar at Azafrán Restaurante, Downtown Mendoza.  At the very front of the restaurant, a beautifully decorated all-wood and climate-controlled wine cellar awaits your perusal (see photo above). You can also dine in the cellar with a small group of up to six people, warm blankets provided. There is no wine list in this restaurant. You choose what you would like to drink first, from over 300 different and interesting Mendoza wine labels, yourself or with the expertise of their sommelier, who'll encourage you to match your food to your wine (not the other way around).
This makes so much sense to me. What I feel like drinking is generally more important than what I am eating, as long as what I am eating is fantastic! And Azafrán will deliver fantastic. The food is imaginative, with fresh ingredients and creatively presented. This charming little restaurant is a unique experience named after the highly prized and rare saffron spice, where Chef Pablo Ranea has created his cuisine to accompany Mendoza's fine wines.
100-Year-Old Malbec Tasting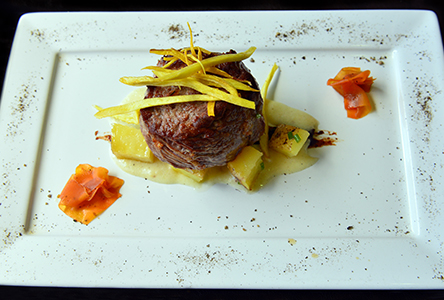 Grilled Sirloin of beef on roasted onion cream, carrots glazed with black pepper syrup, buttered potatoes with fresh chives and plum coulis marinated in Swinto Malbec.  Wine Pairing: Swinto Malbec.
A Five-Course pre-designed spectacular menu.  Gourmet expression in every sense.  Each course is paired with one of their Malbec wines.  Belasco de Baquedano is a 100% Malbec winery in Lujan de Cuyo, Mendoza. All vineyards on their 222 estate acres are 100-plus-year-old vines flourishing around their restaurant, second floor atop the winery, all part of the amazing view, all part of the dining wine pairing experience.
I particularly enjoyed their Swinto Malbec, a meticulous selection of their best clusters from 100-year-old vines to capture the greatest expression of the Malbec grape. It is their biggest wine, and much fruitier to go with it.  This wine is their highest scoring wine as well, 93 points by Robert Parker.  A real treat, and paired with the grilled sirloin… well, just look at the photograph.
Number One Restaurant In Argentina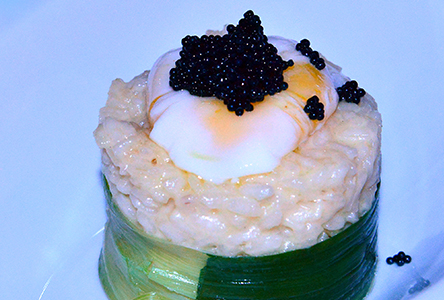 Risotto Mar Y Montaña (Sea & Mountain Risotto)
Trebolgiano Cheese, Soft-Boiled Egg and Lupkfish Caviar.  Wine Pairing: Urban Malbec
Not in Buenos Aires where you might expect the country's No. 1 restaurant (Argentine Academy of Gastronomy in 2011), Nadia O.F. is located inside of an old restored house in Chacras de Coria, in the Luján de Cuyo wine region, just outside the city of Mendoza.  Owner and Chef, Nadia Harón, was born in Spain, began buying cook books at age eight, went to college for a degree in chemistry, worked as a chemist at a pharmaceutical company, until…  she realized her skills in chemistry were better suited for her love of gastronomic ingredients.  Today, chemistry is well incorporated in her creative and scientific gourmet pleasures.  Passion, attention to detail and perfection!  This is what reflects in everything Nadia creates at her restaurant.
There is no menu in her restaurant, so to speak.  Nadia decides what's for dinner.  She changes her six-course meals weekly. Sometimes daily, depending on what she finds interesting or fresh at the market.  It is a seasonal Spanish Argentine event.  It is like joining Nadia for a home-cooked meal, although in this case an extraordinary culinary experience.  And no wine list either!  Nadia is married to the president of the O.Fournier Winery, and each course is appropriately paired with one of his wines.  It is truly a family affair in this home of Nadia O.F.
12 Course • 5 Star • Food & Wine Pairing • Extraordinaire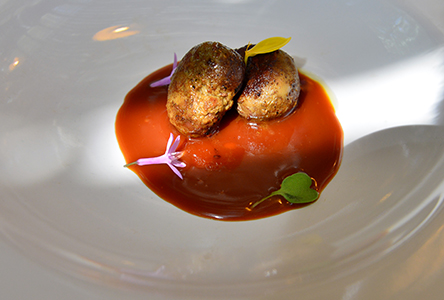 Lamb Kidneys, with toffee sauce.  Wine Pairing:  Santa Julia Extra Brut
Casa del Visitante is a five-star restaurant nestled in the vineyards of the Familia Zuccardi Winery, each table with views of the Andes Mountains.  It is gourmet, unique, creative, decadent… designed by one of Argentina's top chefs, Matías Aldasoro.  Located just south of Downtown Mendoza in the Maipú wine region.
Aldasoro and Zuccardi have prepared a comprehensive 12-course food & wine pairing experience, complete with a sommelier who will help you distinguish the masterful art of pairing wines in a detail, and in a way you probably have never experienced before.  With the depth and diversity of the Zuccardi wines, each course is impeccably paired.  This is a unique experience you do not want to miss.
World's greatest winery Restaurant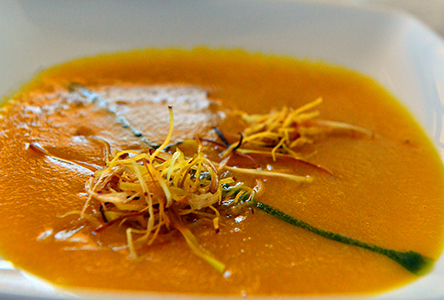 Sopa de Zapallo (Pumpkin Soup)
Pumpkin, sweet potato and ginger soup with crispy leeks.
…and so Urban, the O. Fournier Winery's restaurant in Valle de Uco, Mendoza, wins the award from Wine Access magazine.  For me, it would be a tall order to be the world's greatest winery restaurant… not just exquisite food, it must be paired properly with the winery's wines, plus the ambiance, service, and environment must make me feel at home. This is the best way to taste a winery's wines, paired with food.  And add a relaxing and inspiring environment to get to know the wines.
The food is seasonally inspired by local ingredients changing the six-course fixed menu weekly.  Big flavors of Argentine and Mediterranean-Spanish cuisine pair well with the winery's big red wines showcasing the Alfa Crux, B Crux and Urban wines. Cube minimalist structure and decor, with wall-to-wall, floor-to-ceiling glass windows, every table looks out across the lake front, through vineyards, allowing the Andes Mountains to be admired.  It's a casual, non-rushed environment to enjoy the view as much as the culinary experience.  On warm days, you can sit outside on the desk, lakeside.
Chef-Sommelier Team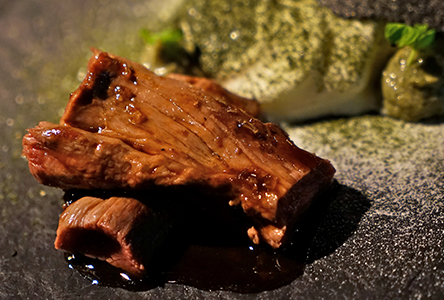 Cordero Patagónico (Patagonian Lamb)
Patagonian lamb with goat yogurt and seaweed (expressing the lamb's desire to live at the sea).
Wine Pairing: Desierto Pampa Malbec (by Paul Hobbs in Patagonia)
Experience extraordinary culinary creativity with Executive Chef Fernando Rivarola, another one of the Top-Five Highly Innovative Chefs of Buenos Aires… teamed with his extremely talented wife, Sommelier Gabriela Lafuente, you have a magic combination at El Baqueano Cocina, their restaurant in the San Telmo Barrio of Buenos Aires.
Not a fancy neighborhood, until you step inside this enchanting restaurant and you are in an isolated world of culinary pleasures.  You will experience exotic meats from different parts of Argentina that are created around interesting social statements and paired with top-level Argentine wines.
Fernando and Gabriela live to create the most extraordinary culinary experiences… working together like two scientists, discussing the nuances of each pairing in order to deliver a very unique eight-course tasting menu (only option).  This is their all-consuming passion, for all of us to love!
The Faena Experience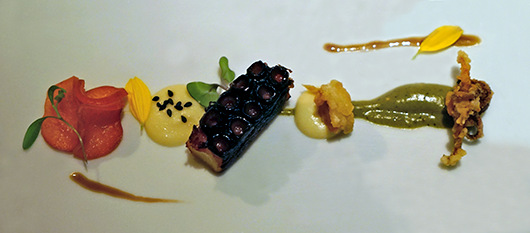 Octopus & Bay Squid
Fresh baked octopus leg and fried baby squid, aside a turnip puree with garlic, smoked green pepper dressing and red turnip pickled in vinegar and soy.  
Wine Pairing:  Luigi Bosca Riesling (from Las Compuertas, Mendoza)
Enter the Faena Universe in the Puerto Madero Barrio of Buenos Aires and you will find yourself in another world… a place in the cosmos of ultra-luxury, decadence, creativity, a playground of music, dining, socializing, and passion.  The Faena is a wildly beautiful restoration of an industrial manufacturing building in Puerto Madero transformed into the most unique hotel, restaurant, lounge, pool bar… experience.
Faena's Bistro Sur is their chic restaurant in its own atmosphere of the cosmos of All-White Elegance, a spectacular design of Philippe Starck… with Executive Chef, Rodrigo Vazquez creating an equally impressive cuisine.  Rodrigo uses classic regional foods and gives them a modern twist of complicated innovative techniques.  A-la-carte is available, however when you have such an inventive chef like Rodrigo, a tasting menu is the way to go.  A five- course pairing concept is typically available.  I indulged in a 10-course experience of magnificent results.  Everything was extraordinary, creative and delectable.  Each course paired with an equally remarkable wine.
Written by Michael C. Higgins, PhD, author/photographer of Exploring Wine Regions – Argentina, a 352-page travel guide, which details an insider's perspective to Argentina's wine regions with more than 500 beautiful color photographs.  If you love wine, make the time to go to Argentina. You are going to have a wonderful time for sure!