Argentina Wine Country Hotels Great Wine Region Resort
Downtown Mendoza, Argentina
Before heading out into the wine regions for some amazing places to stay, you might want to consider staying in Downtown Mendoza. Mendoza is a large city with a million population, which comes with numerous great restaurants, shops and many cultural events and locations. Plus, Downtown Mendoza is very close to some of the wine regions if you would like to do both.
Downtown Mendoza has two Five-Star hotels at surprisingly affordable prices. The Park Hyatt is a historic property and the Mendoza Sheraton is a new modern high-rise building. Two very different choices, both great hotels.
PARK HYATT MENDOZA
Downtown Mendoza… EWR – Page 25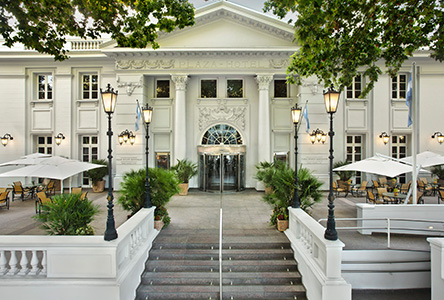 The Park Hyatt Mendoza is a magnificent property.  The architecture is a beautifully restored 19th-century Spanish colonial style with an ideal location… overlooking Plaza Independencia and adjacent to Sarmiento Avenue hosting numerous amazing restaurants.
Sheraton Mendoza
Downtown Mendoza… EWR – Page 28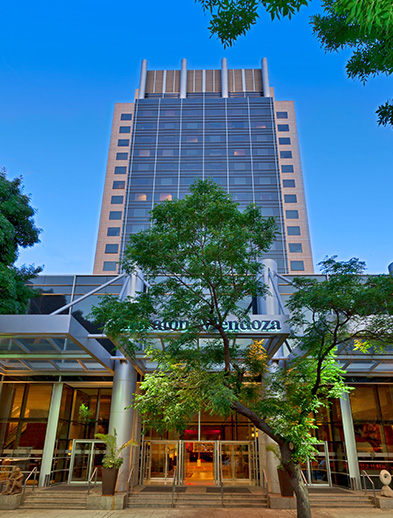 The Sheraton Mendoza Hotel is a new modern luxury hotel built in 2008 in the heart of downtown Mendoza, just two blocks from both Plaza España and the Sarmiento Pedestrian Street.  This 17-story building has the super modern and luxury architecture you would expect of a new downtown five-star hotel.
Lujan De Cuyo, Mendoza, Argentina
Lujan de Cuyo is where it all began in Argentina, a deep-rooted lineage of grape growing expertise for centuries. In 1993, Luján de Cuyo was established as Argentina's first official appellation, creating an atmosphere for a massive improvement to high-quality wines. Today Luján is considered the No. 1 location in the world for growing Malbec, and now has numerous awards, accolades and high scoring points.
Luján is located in the foothills of the Andes Mountains, just 30 minutes south of the city, right in the path of the Mendoza River, bringing fresh snow-melted water from the Andes on a year-round basis. The Inca Indians created an ingenious irrigation system in the 14th century, a channel they called Goazap Mayú, which fed the Luján properties and then eventually created the canal system in downtown Mendoza today.
Cavas Wine Lodge
Luján de Cuyo, Mendoza… EWR – Page 76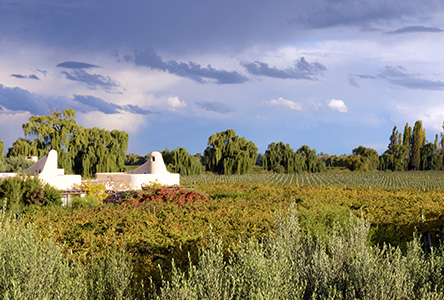 Imagine 55 acres of vineyards with private villas secluded with westerly views of the Andes and all the luxuries you would expect of a five-star hotel… in a casual environment of natural building materials and textiles (photo above).
Indoors… separate living room, bedroom, office, walk-in closet, wood-burning fireplace, king bed with Egyptian cotton, spa-style bathroom, dual vanities, separate shower and vintage soaking tub.
Outdoors… outdoor shower and garden, plunge pool, wood-burning fireplace, and very private.
Upstairs… rooftop terrace with mattress and wood burning fireplace. They will serve you dinner or make bedding for an overnight under the stars.
Service… nightly turndown, morning wake-up, breakfast, twice daily housekeeping and an attention to pleasing your every desire.
Finca Adalgisa
Chacras de Coria, Luján de Cuyo, Mendoza… EWR – Page 58

This delightful property is the perfect place to hang your hat while exploring the Luján de Cuyo wine region. The historic buildings have been beautifully restored and provide the kind of luxury accommodations and services of a five-star international hotel company, yet this small family-run business welcomes you to their home in a laid-back, informal and relaxed environment where they have lived for three generations – and still live on the property today!
Nestled in the middle of five acres of Malbec vineyards, from the beginning of your stay you are already amidst the vines and grapes, with a working winery on the property that produces a spectacular Malbec. You must enjoy the wine experience on the back patio of the winery in the evenings.
La Posada Vistalba, At Bodega Vistalba (Winery)
Vistalba, Luján de Cuyo, Mendoza… EWR – Page 75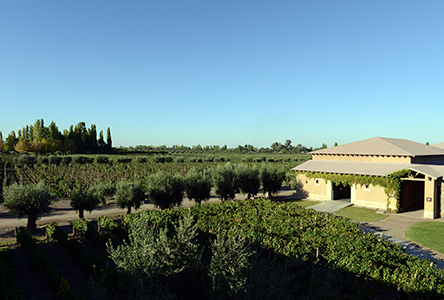 La Posada Vistalba has two spacious hotel rooms above the Bodega Vistalba winery, with views of the Andes, vineyards and the winery… with the modern convenience of WiFi, TV and refrigerator. Breakfast included. Built in the 21st century (2002), Bodega Vistalba had the opportunity of incorporating modern technologies and innovations into all aspects of their winery from design-up of this state-of-the-art facility.
Staying at their inn is an opportunity to discover the spirit of the winery and their people, up close and personal. During your visit, they will show you the winemaking process from the beginning… they will walk you through the vineyards so you get to know the journey of the grape, experiencing the elaborate winemaking process from vineyard to winery to bottle… all aspects of production, live, at Bodega Vistalba while you are there. To complete the visit, there is nothing better than tasting their wines with the winery's enologist in the underground wine cellar.
Valle De Uco, Mendoza, Argentina
Nestled in the base of the Andes Mountains, about an hour drive southwest of Mendoza city, Valle de Uco is at an even higher elevation than the famed Luján de Cuyo, ranging from 3,000 to 5,000 feet elevations with its rock, sand and clay soils, extreme day/night temperature ranges, pristine air quality, and fresh snow-melt Andes water entering the valley through its magnificent rivers. Add to this a long growing season, with harvest late into the fall (primarily April) with fruit hanging on the vines through a beautiful palette of yellow, orange and red autumn leaf transformation.
This special micro-climate is producing an elegance to wine that has grabbed the attention of top winemakers around the world. From its Mendoza neighbors of Santiago Achaval and Sebastian Zuccardi, to Napa Valley's Paul Hobbs, to the far distances of Bordeaux's famous Barons de Rothschild and Michel Rolland… all of these notable winemakers have now established themselves in Valle de Uco and are investing in the future of this new frontier.
The three sub-regions of Valle de Uco are Tupungato in the north, defined by being north of the Las Tunas River. Tunuyán in the center, defined by the Las Tunas River to the north and Tunuyán River to the south. The southern region is San Carlos, defined as being south of the Tunuyán River.
Casa Antucura
Tunuyán, Valle de Uco, Mendoza… EWR – Page 118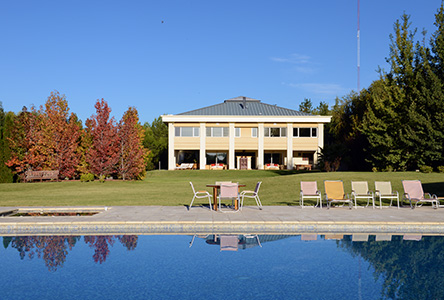 Make yourself at home in this beautiful and very private eight-bedroom home in the heart of Vista Flores, Tunuyán. This two-story home (photo above) is located in the middle of a private estate vineyard, with winery, lake, fruit trees, original art sculptures, hundreds of roses and numerous mature trees… all to create a very special environment like no other you will experience in Argentina.
Downstairs is an elegantly appointed living area, open to the second-floor library and its massive dome ceiling – a hand-painted, fresco mural of the four seasons. The library surrounds the entire second floor with an 8,000-book collection of valuable and interesting literature from around the world, on most every topic, and in various languages… an exploration in which you can enjoy during your stay. Off the library are the eight private rooms overlooking their spectacular landscape.
The library is one of the most remarkable works of art at Casa Antucura. For the owner of this estate, Anne-Caroline Biancheri, the inspiration for the library was simple. Anne-Caroline is a Literary Editor, for this is her first office, she loves books and has always been surrounded by them. She will tell you… "In Casa Antucura, books are the soul of the place. I have no special book, I have special moments in which I enjoy different books. Just like wine!"
The Vines Resort & Spa
Tunuyán, Valle de Uco, Mendoza… EWR – Page 133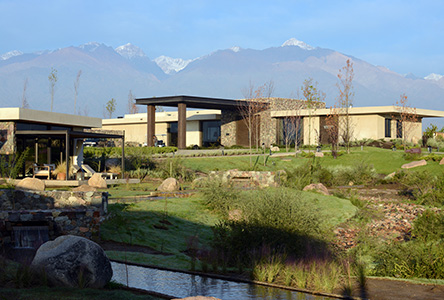 Amid the private vineyards, The Vines built a beautiful upscale All-Villa Resort. These villas are far above your typical five-star hotel. Designed by renowned architects Bormida & Yanzon, built with a mix of rustic and modern materials in an ultra-contemporary design, with no stone unturned, literally, the huge stone you will find in the indoor/outdoor shower is conveniently for resting your foot while shaving your legs.
Twenty-two spectacular one- and two-bedroom villas take in the natural light in their open floor to ceiling windows and massive indoor and outdoor living spaces… creating expansive views of the vineyards and Andes Mountains. Beautiful furnishings, full custom kitchens, state-of-the-art technology and meticulous attention to detail. Outdoor living spaces are just as beautiful and inviting. Expansive natural wood decks, private rooftop terraces, gas fireplaces, outdoor soaking tubs and showers, and plunge pools that double as a hot tub.
The resort villas are available as nightly rentals for vacation getaways. Or, private villas are offered for purchase as exclusive residences, with resort privileges, maintenance-free living, 24-hour security, and may be placed in the resort's rental program with seamless professional management.
Postales Hoteles Boutique
Tunuyán, Valle de Uco, Mendoza… EWR – Page 136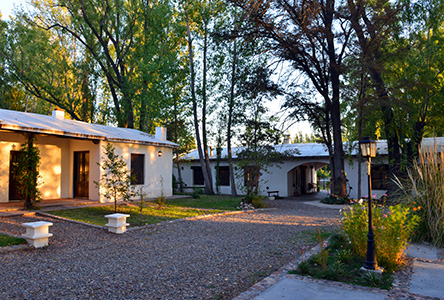 Wake up in the morning to a quiet and peaceful serene setting. To crisp clean air. Brilliant sunshine. In the middle of Malbec vineyards. Under enormous weeping willows, pines and alamos trees. Snow-capped Andes for a backdrop. A tranquil getaway from it all, and yet in the center of Valle de Uco convenient to the many wineries and outdoor activities this valley and mountain area offers.
There are only nine quaint rooms in this park-like setting, with swimming pool and benches to gaze out through the vineyards at the majestic Andes mountains. Freely wander through their vineyards, watch the sun rise yellow through the vines, and take in the harmony of nature. Built of authentic adobe walls and open beam ceilings of logs and bamboo, custom wood doors, and antique furniture. A charming place filled with authenticity and personal service.
Posada Salentein, at Bodega Salentein (Winery)
Tunuyán, Valle de Uco, Mendoza… EWR – Page 145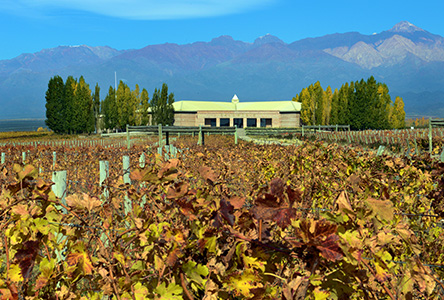 Posada Salentein is a 16-room hotel amid the Bodegas Salentein vineyards, privately tucked away from the tourism area, at 4,200' elevation overlooking their magnificent estate and with its own private restaurant. Bodegas Salentein is likely the largest winery estate in Valle de Uco with 5,000 acres (2,000 planted with vineyards), stretching 14 linear miles through elevation of 3,400 to 5,600 feet, well into the foothills of the Andes Mountains where the growing cycle is short and the climate cool. As Salentein is discovering, this is ideal terroir for the short-cycle varietals of Chardonnay, Pinot Meunier and Pinot Noir.
Imagine a place where nature, art, culture, food and great wine all come together for an awe-inspiring experience for the day, or more. In a breathtaking atmosphere of native plants and natural materials used for construction, comes art… sculptures within the landscape and buildings, modern architecture and design, a museum of 19th- and 20th-century Dutch paintings, an art gallery of local artist expressing thought-provoking Argentine culture, chefs express their art and taste on the plate, and an innovate winery where great wines are created. All under the backdrop of the Andes Mountains surrounded by vineyards in every direction.
Bodegas Salentein is a magnificent winery open for touring and tasting. Take in the didactic vineyard between the Killka and Bodega, an educational collection of the different Salentein vines growing on the estate. See how the grapes arrive and gently move through the winemaking process. Take in the architectural marvels. End up in the underground amphitheater of ancient classical temples of 5,000 oak barrels aging their precious wine.
Alpasion Lodge
Tunuyán, Valle de Uco, Mendoza… EWR – Page 148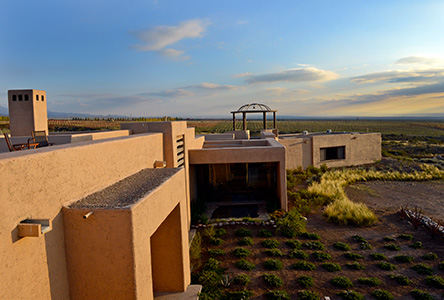 Five good friends were sitting around enjoying a few bottles of great wine, becoming inspired by the dream of building a luxury home in Argentina's wine region, and making extraordinary wine to indulge themselves and share their passions with the world. By December 2012, 28 friends had joined them and they purchased this special property in Valle de Uco and built a beautiful six-bedroom, very spacious and luxurious custom home/lodge. The home is staffed, including a gourmet chef for all your meals.
Book a room or the entire home, this is a peaceful wine environment that exudes everything passionate about wine as the owners intended. Join the passion. Stay for a few days, or become part of their future. The passion is all yours.
Casa De Uco Wine Resort
Tunuyán, Valle de Uco, Mendoza… EWR – Page 150

It all began with vineyards on this 790-acre estate north of Vista Flores in the Los Chacayes sub-appellation of Tunuyán at 4,100' elevation next to the Andes Mountains. A beautiful backdrop indeed.
Imagine only 16 rooms in this ultra-luxury hotel… appointed with a gourmet chef, sommelier, underground wine cellar, spa, wine lounge and living room with a grand fireplace, all with extraordinarily attentive service throughout the hotel. You will be received royally, as the service, food, ambiance, and rooms are all top-tier.
As a guest of the hotel, you will be treated to guided tours of the winery and vineyards, including participating in vineyard work if you like, and specially guided wine tastings with their sommelier. Plus access to their spa facilities, use of complimentary mountain bikes, and very cool sulky rides throughout their beautiful property.
San Rafael, Mendoza, Argentina
San Rafael is located in the southern part of the Mendoza region, away from the other wine regions. It is a three-hour drive south of the city of Mendoza. They also have an airport with commercial flights, and a large winery adjacent to the airport – Bodega Valentin Bianchi. San Rafael is a modern city today celebrating its rich history and culture with 15 or more museums and other cultural places to visit. There is a town square, a historic train station, numerous parks, great shopping, and many interesting neighborhood restaurants to taste the local flavor.
The charm of the majestic old sycamore trees and open irrigation channels lining the streets will get you in the San Rafael mood of relaxation. Being in the flatlands away from the Andes, walking and wondering the streets on bicycles (many rentals) are common activities.
There are olive oil factories and a several dozen interesting and different wineries to tour. Three sparkling wine bodegas, including the famed French and California Mumm Champagne, have set roots here. It is a different climate, cooler, so you will experience softer Malbec, Syrah and Bonarda. And with Pinot Noir being used by the sparkling bodegas, Pinot is now being explored by a couple of wineries for single varietal vintages.
Just south of the city is Valle Grande and Cañón del Atuel, a mini Grand Canyon, with a large majestic reservoir and a year-round flowing river… hosting numerous outdoor sports including boating, sailing, fishing, kayak, canopy, whitewater rafting, hiking, mountain climbing, four-wheeling, horseback riding, and mountain biking.
Algodon Wine Estates
San Rafael, Mendoza… EWR – Page 174

Imagine strolling through 2,000 acres of orchards, vineyards, golf, and your own private custom estate home… picking a fresh peach off the tree and pondering life. And just how good it is… the apple doesn't fall far from the tree, so you can choose to build your own dream home in the center of various fruit orchards, or on your own estate vineyard of your favorite grape varietal, or right alongside one of the beautiful green golf fairways… overlooking it all.
Thirty minutes outside the city of San Rafael, the Algodon Wine Estates is poised to be a luxury community of large estate homes amongst orchards, vineyards, golfing, tennis, hotel, restaurant, and winery. Numerous homes are already under construction or completed, averaging 4,000 square feet. Amid a grass park-like setting, vineyards and fruit trees, is a small lodge on the property converted from a 1921 farmhouse. Charming with basic features in a lodge, private porches, swimming pool and a vine-covered barbecue area.
Downtown Salta, Argentina
Salta is a state, and the capital city of the province, located in the far northwest of the country at high elevations in the foothills of the Andes Mountains 600 miles north of Mendoza and bordering Bolivia, Paraguay and Chile. This is Argentina's second largest wine region becoming famous for its unique grape… Torrontés. Another unusual grape grown here is Tannat. Plus they grow Argentina's notable Malbec, in addition to Merlot and Cabernet Sauvignon.
In all of Argentina, Salta is considered the city which has preserved its colonial architecture the best. Nicknamed Salta La Linda (Salta the beautiful), it has become a major tourist destination due to this old and restored colonial architecture. Salta is the city you must fly into in order to venture out to the wine regions. It has a population of 600,000 and an elevation of 3,780' with many exciting tourism opportunities. Since the wine regions are at least two hours away, you might as well explore Salta for a day or two on your way.
Delvino Boutique Hotel
Downtown Salta… EWR – Page 205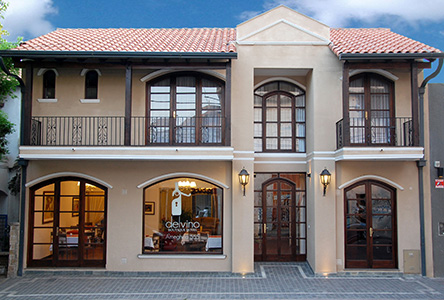 The Delvino Boutique Hotel is the perfect hotel when on a wine region adventure to Salta. Delvina will get you in the wine mood. The entire hotel is themed and focused on wine. When you arrive, you will be greeted with a glass of local Salta wine and personally escorted to your wine-themed room. Each room is named after a wine grape and decorated with the varietal's theme. The Malbec Room has red Malbec walls, paintings and other art, all in the theme of Malbec.
My favorite is the Torrontés Room, the grape famous for Salta and the hotel's premium suite. It has crisp green walls just like the Torrontés grape and wine region paintings of the vineyards and wineries of Salta. It is spacious with a large living room and in-room hot tub (photo below) overlooking the hills of the city. Delvino is an old home restored into a hotel, with a central courtyard and casual homestyle ambiance. It is perfectly located in downtown Salta, just two blocks from the new hip Paseo Balcarce district of cool restaurants, clubs and shops, and a scenic five-minute walk to Plaza 9 de Julio central square, with many things to see and do.
Patios De Cafayate, The Hotel At El Esteco Winery
Cafayate, Salta… EWR – Page 214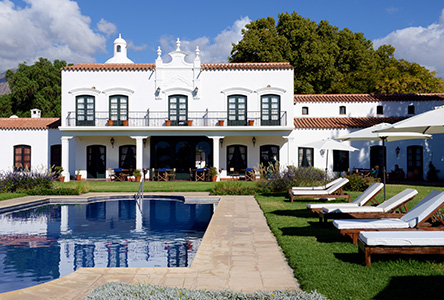 Patios de Cafayate is a beautiful Spanish-style hacienda; the former home of the Michel Torina family, founders of El Esteco Winery in 1892. Thirty-two bedrooms with private baths surround courtyards and elegant gardens of colonial beauty in what today is a luxury boutique hotel. Enjoy the peaceful serene environment of this hotel and winery set amidst 1,000 acres of vineyards, and well off the road down a long driveway after a guarded entrance into the grounds and then through a majestic iron gate into a private world of the hacienda. It is quiet. Romantic. A grandeur of luxury of an era past.
The rooms are authentic, outfitted with antique furniture, handmade carpets, ceramic and wood floors. The rooms reflect the local culture, with tapestries designed by renowned Calchaquí artist Héctor Cruz and original features still in tact such as loom woven carpets and oven-baked clay tiles.
Sit pool-side on their patio with a special glass of one of El Esteco's wines and enjoy the uniqueness of an east-facing sunset. The hills light-up with magnificent colors from the desert-sun setting behind the hotel and onto the palate of your view. Dining at Patios de Cafayate will feel like you are in your own home, with your private chef and high-class staff. They serve authentic Andean cuisine made with local ingredients from recipes passed down through generations. And the winery is only on the other side of the wall, so a fabulous bottle of wine is at your fingertips.
Casa De Vinos Boutique Hotel
Tolombón, Salta… EWR – Page 234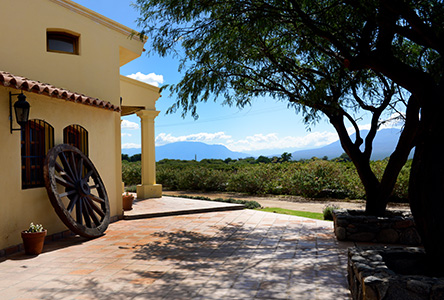 Here you are, in this quaint little village of Tolombón, nine miles south of Cafayate, where is appears that time has stood still for hundreds of years. Now, this is a place to relax. You are literally away from everything. Quiet. Peaceful. Picturesque. Pure clean air. Cloudless skies. And a sky that decorates the night with stars galore! And, in this oasis is a charming historical manor, Tukma Casa de Vinos Boutique Hotel & Spa, built in 1892 and restored to a beautiful relaxing getaway.
Relax pool-side gazing at the surrounding vineyards and mountains in the distance. Bar and restaurant service is available. You can borrow their bicycles to explore the area and town, or arrange a tour of their winery Bodega Tukma just two miles south of the hotel. The rooms are large and spacious, with all the amenities of resort hotel. The property is filed with many large trees for a park-like setting to doze off in the shade, or have a picnic of authentic country-style foods prepared in their kitchen. Of course a bottle of Tukma Torrontés Reserva is the best way to spend the afternoon.
Hacienda De Molinos Hotel
Molinos, Salta… EWR – Page 238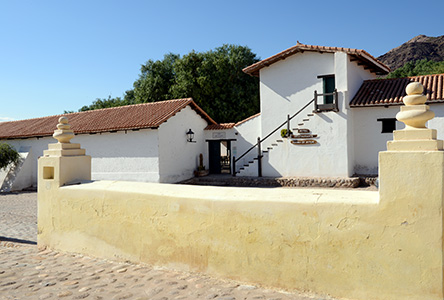 Hacienda de Molinos was built by General Diego Diez Gómez in the second half of the 17th century on the Tacuil Region gifted to him in return for the services he rendered to Spain. Later, it became his daughter (Magdalena Diez Gómez) and his son-in-law's (General Domingo de Isasi Isasmendi) residence. When Isasi Isasmendi died in 1767, the hacienda was inherited by his eldest son Nicolás Severo de Isasmendi who was the last governor of Salta who was appointed by the King of Spain.
Hacienda de Molinos is a very traditional hacienda that has been refurbished to provide all the comforts expected in a 21st-century hotel, while preserving the essence and typical features of these colonial times. The hacienda has typical thick and tall adobe walls surrounding a central patio, which is shaded with a huge pepper tree. The rooms are authentic with antiques, iron window bars and ceilings made of carob trees and reeds.
Molinos has a population of 900 people, an elevation of 7,300' and the village is roughly four blocks wide by seven blocks long. The streets are romantically lit by lanterns at night to silently express part of their history and culture. Ruta 53 runs through the center of town and upon departure, you cross a wide riverbed and head into the valley of vineyards and wine.
Written by Michael C. Higgins, PhD, author/photographer of Exploring Wine Regions – Argentina, a 352-page travel guide, which details an insider's perspective to Argentina's wine regions with more than 500 beautiful color photographs. If you love wine, make the time to go to Argentina. You are going to have a wonderful time for sure!