Top Ten Most Romantic Hotels and Places in argentina
Time for romance in Argentina? Yes, it is always time! And when you have the backdrop of the magnificent Andes Mountains in both the Mendoza and Salta wine regions, the stage is set for a beautiful experience.
Argentina is filled with magical settings to get lost in romance with your sweetheart. As an insatiable romantic myself, I made special note of the magical places to cuddle and kiss, the most romantic dining locations (inside and outside), the romantic spas and bathroom tubs, the outdoor adventures filled with romance, and the ultimate places to stay with your room full of romance! The Argentina Wine Regions are so romantic, you might even want to consider proposing or having your wedding in a beautiful vineyard setting. Or renew your vows in a place so special and romantic.
This is for the lovers of the heart, and those with passionate desires. With an immense appetite and desire for romance, I never miss discovering those magical romantic settings. You? I was there. Took pictures. Indulged. And now sharing them here with you.
Let's begin with my favorite romantic dining locations, followed by hot-water fantasies, and conclude with some outdoor stimulation. You will notice when it comes to romance, I do not know how to count. In my book Exploring Wine Regions – Argentina (EWR), I have described these top ten most romantic hotels and places in detail, and I am listing the page numbers here for you to explore further these romantic indulgences. Enjoy!
Dinner In The Library
Cavas Wine Lodge, Luján de Cuyo… EWR – Pages 76-79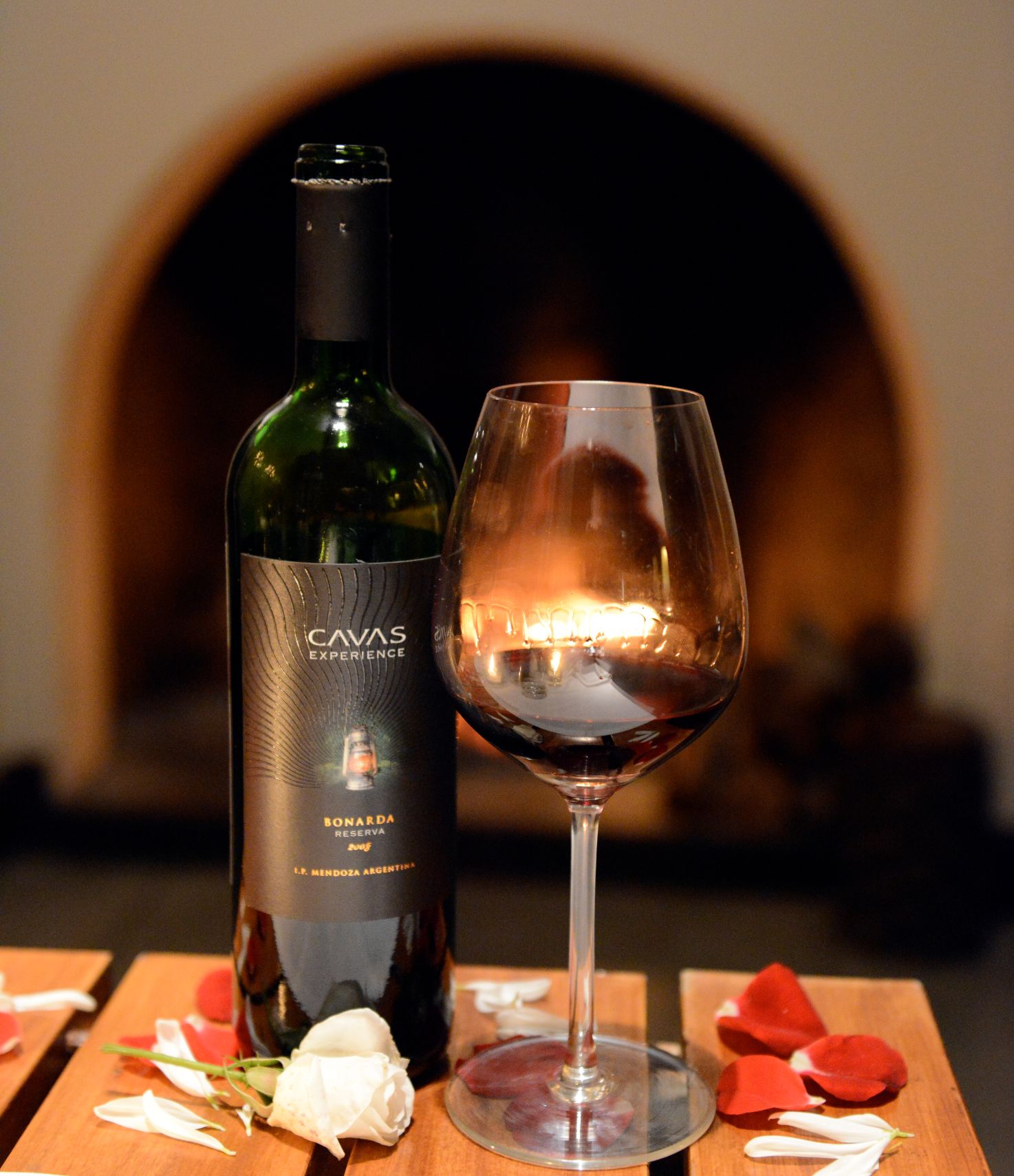 Psst… would it be possible to have dinner in your library and create a beautiful romantic setting in front of the fireplace, and make this a special surprise for my dinner date? Yes, of course. There are many aspects of the Cavas Wine Lodge that are romantic; however, the staff's eagerness to please and their inspired creativity make this magical place in Mendoza's Luján de Cuyo wine region filled with very special romantic experiences.
Imagine a large spacious library designed of antique decor, interesting literature and a grand piano… transformed into an intimate dinner for two. A large rip-roaring fire making the room toasty warm. A small table setting in front of the fireplace set for two. Roses, rose pedals, wine glasses, and a single little candle to add to the atmosphere. A pianist creating beautiful music is sitting at the baby grand. And the chef has ideas too. Starting with a romantic toast of sparkling bubbly and then each scrumptious course is paired with an Argentine wine. A surprise evening of romance. A night to remember.
Picnic In The Park
Alta Vista, Luján de Cuyo… EWR – Pages 50-51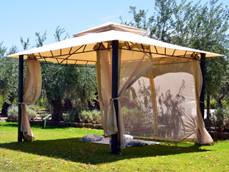 An afternoon picnic in the park is so romantic! Now imagine the park (Le Parc, as it is named in French) on a private 62-acre historic winery estate. The Alta Vista Winery is in the heart of Chacras de Coria (Mendoza), full of hundred-year-old olive trees and a circa 1899 winery of adobe brick buildings made of sun-dried earth and straw. The d'Aulan family produces wines all over the world, and here in Argentina they have created the perfect combination of French savoir faire and Argentinian passion at this French-owned winery.
Rollout a blanket and some pillows (provided)and enjoy a picnic basket full of gourmet snacks and delicacies. I suggest toasting your love with their Atemporal Blend (meaning timeless). This is a rich and elegant Bordeaux blend produced by this French winemaking family in Argentine style (the primary grape being Malbec, versus Cabernet Sauvignon). Le Parc is a place for a magical afternoon, a gourmet picnic, a pairing with delicious wines, a romantic escape, a nap, a kiss, and a peaceful delight under the shade of a canopy.
Dine In A Wine Cellar
Azafrán Restaurante, Mendoza City… EWR – Page 21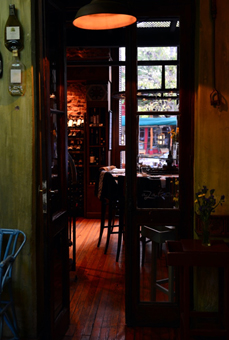 Step into the wine cellar of Azafrán Restaurante in Downtown Mendoza, a charming little restaurant named after the highly prized and rare saffron spice, you will discover Chef Pablo Ranea has created his cuisine to accompany Mendoza's fine wines.
It all begins in the cellar, where the wines are chosen first from over 300 different Mendoza labels. There is no wine list here! You choose your wine first, then their sommelier will pair your wine to what they are cooking (not the other way around). And the food is imaginative with fresh ingredients and creatively presented. To dine at the one center table in the middle of this unique wine cellar is a special experience to enjoy with your sweetheart and the many wines that surround you. Blankets are provided to keep you warm amongst the wines.
Stimulating Showers, Tubs & Spas
Nothing speaks to romantic intimacy better than being naked… especially when lots of hot water is involved. Showers, tubs and spas are enchanting to the fantasies nurtured within water. In Argentina, there are so many tantalizing places to uncover…
Steamy hot environments… tantalizing tubs, breathtaking baths and sensational showers awaken the senses… enchanting moments of soft quiet stillness… caressing waters in the privacy of your own hotel bath, outdoor showers, and spas with enriching aphrodisiacs in the waters, love potions, erotic foods and enticing drinks.
Here are a few of my special finds…
Malbec Wine Soak
Cavas Wine Lodge, Luján de Cuyo… EWR – Pages 76-79


Wine Therapy at the Cavas Wine Spa begins with a hot Malbec Wine Soak, both of you surrendering to the vine, and to each other. Followed by a Crushed Bonarda Grape Exfoliation tantalizing your senses. Finally, a Therapeutic Massage of epic attraction. They call it Vinoterapia, I call it pure ecstasy!
Enchanting Showers
Cavas Wine Lodge, Luján de Cuyo… EWR – Pages 76-79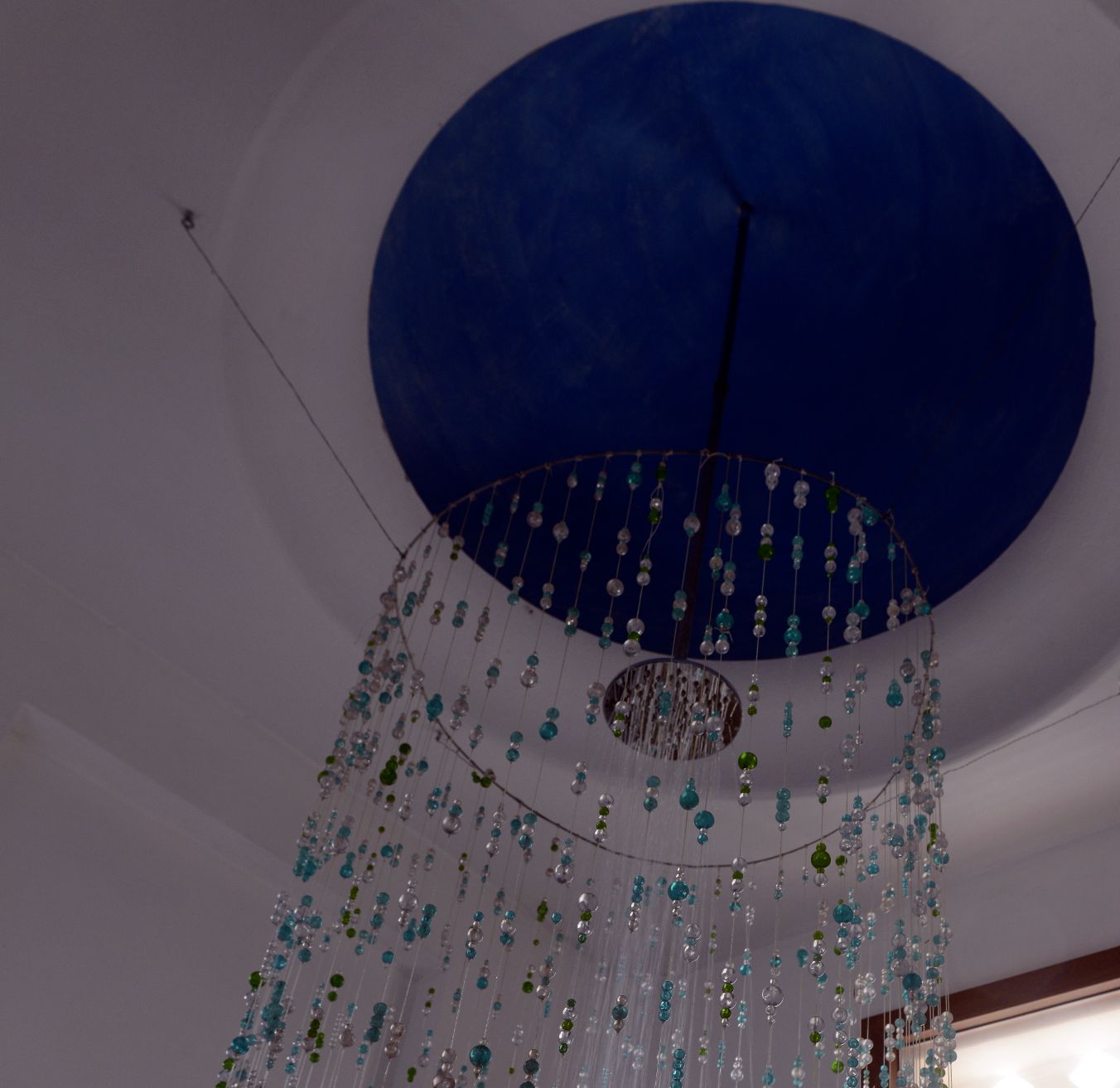 Almost everything imaginable about the Cavas Wine Lodge is romantic! The spa and their Wine Therapy. The private rooftop decks with fireplace and bed to gaze across the landscape, cuddle up in front of the fire or spend the night under the stars. The outdoor showers to feel the open air against your naked skin. Wood-burning fireplaces in the bedrooms. Spa-style bathrooms with vintage soaking tubs. Private plunge pool. And a king size bed with the most soft and decadent linens for your most intimate adventures.
The showers are waterfalls falling from the blue sky encompassed by hanging beads in a rainbow of colors. Standing in the rainfall finds beauty from the frosted window of soft light entering the room glistening the glass colored beads and enjoying the moment of bliss. The visual is captured above.
Spa With a view
The Altalaluna Spa, Cafayate… EWR – Pages 234-235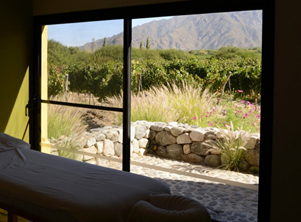 Naked inside a thick warm robe, lying peacefully on comfy Chaise Lounges in a relaxation room, sipping on natural juices, and gazing through windows at unobstructed views across vineyards into the surrounding foothills. This is a beautiful romance in the making. The massage rooms share this same breathtaking view as the massages pamper your body. This romantic escape is isolated at the back of the Casa de Vinos Boutique Hotel property in Tolombón, a few miles south of Cafayate in the Salta Wine Region. Everything is designed to get you away from it all and enjoy pampered excellence. Steam and dry saunas, Scottish showers and a gym too.
Passionate Lifestyle
AlPasión Lodge, Valle de Uco… EWR – Pages 148-149

AlPassión is a private residence of six bedrooms, a lodge within vineyards.  Rent the entire place or choose a single room.  All with different earth themes.  All sexy.  Either way, you get an in-house chef and pampered service.  The showers are inviting (above), the rooftop is enchanting day or night, and the outdoor jacuzzi sits under the backdrop of the Andes Mountains.  Start your romantic day with breakfast served in the Jacuzzi, and end with a passionate kiss, rooftop, under the stars surrounding a campfire.
Magical Bath
Finca Adalgisa, Luján de Cuyo… EWR – Pages 58-63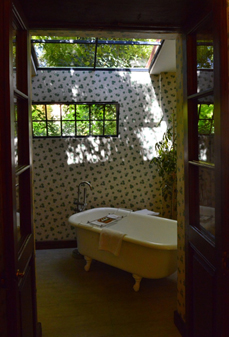 This delightful property is the perfect place for a romance. The family's three generations' historic homes have been beautifully restored to provide the kind of luxury accommodations and services of a five-star hotel. Nestled in the middle of five acres of Malbec vineyards are eleven uniquely designed rooms in historic buildings. Enjoy their vineyard-side pool, a full breakfast in the morning among ponds, fountains and lush landscape, and bask in a bath under splashes of fresh sunlight and decor to enliven your romantic spirit.
Outdoor Stimulation
Sunsets in Patagonia
Neuquén and Río Negro… EWR – Pages 250-278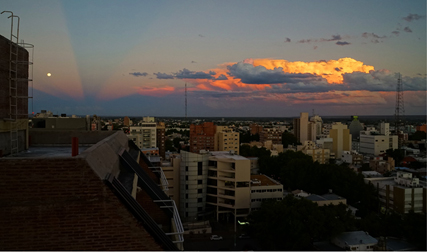 There is something about the skies in Patagonia that produces spectacular sunsets. Sunrises too! The sky is so pristinely clear here, with rich blue and enough weather that clouds can arrive for a sunset to light up the sky as clouds participate.
Above is a sunset over the city of Neuquén in the Neuquén province of Patagonia. I particularly love the mix of light radiating into the sky with clouds adding dimension and reflecting the warm yellow and orange hues against the cool backdrop of blues… and the full moon is lit up in proud presence to make this an evening of sunset awe.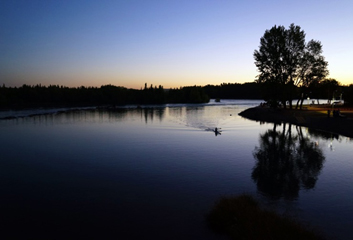 At the very southern end of downtown Neuquén, the city borders the Río Limay (river), where a very nice park has been developed along the river. Parque Democracia (park) has numerous benches along a new walkway with grass and trees, all overlooking this majestic river. A refreshing stroll hand in hand, or snuggle peacefully on a bench, and watch the sky transform its sunset and enjoy the reflections off the stillness of the river.
Afternoon In The Vineyards
Bodega Agrestis, Río Negro… EWR – Pages 292-293

In the middle of the vineyards at Bodega Agrestis is a beautiful park setting. Green lawns, mature trees and outdoor furniture to lounge and enjoy the afternoon. A tour at the Agrestis winery includes delicious empanadas and grilled foods to compliment their sparkling wines. This winery makes exclusively sparkling wines. And they are extraordinary! Meticulous effort goes into making delicate, hand-crafted wines resemblant of old-world French Champagne, yet unique characteristics of the Patagonia terroir which make them a very special treat. My passionate inclination is to get a bottle of one of their delectable sparkling wines and toast to a romantic interlude in the park.
Picnic In The Mountians
Discover The Andes, Valle de Uco… EWR – Pages 164-167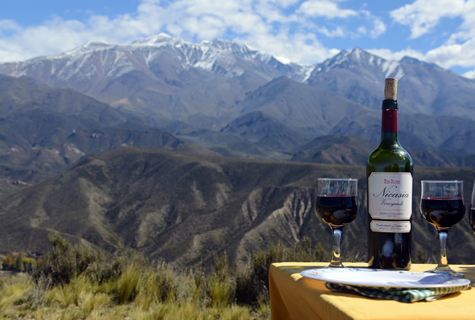 The Valle de Uco Wine Region is nestled into the foothills of the Andes Mountain range, providing direct access to abundant outdoor activities. The natural areas are extensive here, and with many preservation areas. Discover the Andes is a highly-skilled team of mountaineers who believe in this activity to get in close contact with nature and develop moments of deep introspection.
Imagine an uninhibited connection with your lover on top of a magnificent vista, sharing a bottle of Argentine wine and a picnic in the presence of your raw emotions. Nurturing, captivating, stimulating as you connect on the deepest of levels about life and yourselves.
Written by Michael C. Higgins, PhD, author/photographer of Exploring Wine Regions – Argentina, a 352-page travel guide, which details an insider's perspective to Argentina's wine regions with more than 500 beautiful color photographs. If you love wine, make the time to go to Argentina. You are going to have a wonderful time for sure!